Bar Harbor is one of those classic boating locations that seems to be ingrained in American culture. It's an old school boating location that dates back to 1796 and is situated between Frenchman Bay and Acadia National Park. Perfect for your Crownline or Finseeker, you'll love this idyllic coastal area.
Bar Harbor seems to have it all: vintage Northeastern accents, a National Park, great boating, and a picturesque downtown and residential neighborhoods. You're going to want to spend a few days here to get the full experience. We suggest at least one day boating, one day exploring the town (and doing some more boating), and two days of adventuring in Acadia.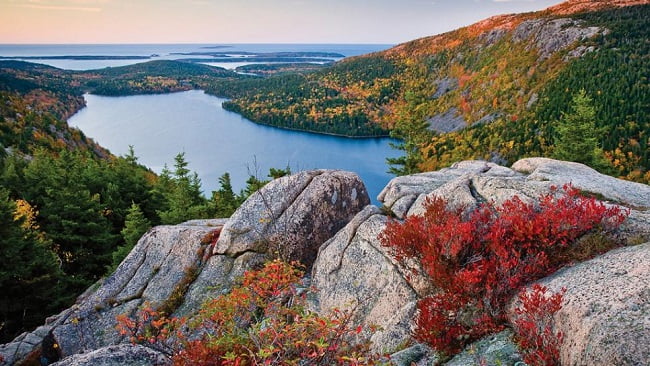 If you're looking for a place to stay, check out the Balance Rock Inn or Harborside Hotel, Spa and Marina. Both are classic luxury hotels that promise an amazing experience. Obviously, having a marina at your disposal is of the utmost importance, so it's hard to overstate just how convenient the Harborside Hotel is, but the Balance Rock Inn is bound to be one of the nicest places many people have ever stayed. Both boast amazing amenities and restaurants that you won't want to miss.
Boating in Bar Harbor is amazing. With mountains and open sea on either side of you, the landscape welcomes you to choose your own adventure. Explore the bays or cruise open water. Hop from port to port and check out the small towns around Frenchman Bay. There are islands to putz around and plenty of places to drop anchor. The water is cool and the breeze is as well, but the beauty of the area truly speaks for itself. Just get out there.
If you're wondering what boat to bring out there. We recommend the Crownline E 285, which gives you plenty of power and space to enjoy an action packed day on the water, but also provides the comfort you desire when it's time to take a breather. If you're fishing, try the Finseeker 230 Center Console. It's big, nimble and perfect for getting you to the best fishing locations.
Acadia National Park is just a few miles west of the city. Here's what you need to know about this wonderful escape in their own words ,"Acadia National Park protects the natural beauty of the highest rocky headlands along the Atlantic coastline of the United States, an abundance of habitats, and a rich cultural heritage. At 3.5 million visits a year, it's one of the top 10 most-visited national parks in the United States. Visitors enjoy 27 miles of historic motor roads, 158 miles of hiking trails, and 45 miles of carriage roads." Teeming with wildlife and trails, one could explore Acadia for months on end.
Bar Harbor is an awesome experience that everyone should enjoy at least once. From the majesty of Acadia to the incredible boating, there's nothing not to like about this Eastern gem.